This memorial website was created in the memory of our loved one Robert James Flynn who was born December 19,1993 and passed away on August 10, 2009 at the age of 15.
Always Remembered Forever Loved
Robert was a wonderful son, brother, grandson, uncle, nephew and friend. He was quiet yet outgoing and could bring a smile to anyones face. All he had to do was walk into a room an smile and it would just warm your heart.He loved spending time with family and just hanging out with friends. He was always there for his friends. If someone needed to talk Robert was there to listen. Robert didn't care who you were or where you came from he would be your friend. He enjoyed basketball, football, bike rides and riding his go-cart. He loved to play with his dog Buster and dress the dog up. Robert was a very special person to many people. He touched many lives. He will be sadly missed, always remembered and forever loved. Memories of him live on in all of us that had the pleasure of letting him into our hearts.
Your family and friends miss and love you so very much.
When you see a star shining bright in the night sky, know it is Robert smiling down on all of us. Our guardian angel is watching from up above.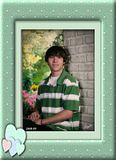 Robert J. Flynn of Ohio Street Masury, Ohio, passed away on Monday (08-10-2009) at St. Elizabeth Hospital in Youngstown. He was 15 years old. Bob was born in Sharon, PA on December 19, 1993, a son of James R. and Kathy L. (Gaines) Flynn. He was preparing to enter Brookfield High School as a Freshman this fall. During his free time he enjoyed bike riding, playing football and basketball with friends, and spending time talking on the phone while using Myspace. Bob is survived by his father James Flynn of New Castle, PA; his mother Kathy Gaines and Bob's stepfather Terry Rankin of Masury, OH; three brothers Michael Flynn, Keith Flynn, and Josh Flynn all of Masury, OH; his sister Andrea Leone and her husband Clint of Liberty, OH; a half brother Shawn Mathews; his step-sisters Courtney and Jamie Rankin of Masury, OH; Paternal Grandmother Mary Ann Black and step-grandfather James of Masury, OH; Maternal Grandmother Della Smith and step-grandfather George of Florida; a paternal uncle and four paternal aunts; a maternal aunt; six nephews and three nieces; and many cousins also survive. He was preceded in death by his paternal grandfather Edward Flynn and maternal grandfather Robert Gaines.
Robert was pronounced dead at 4:45pm August 10,2009
He was killed by a single gunshot wound to the head.
Help for Crime Victims - The National Center for Victims of Crime ...
www.ncvc.org/ncvc/main.aspx?dbID...VictimAssistance207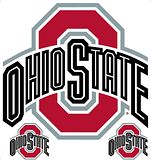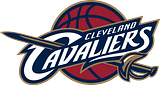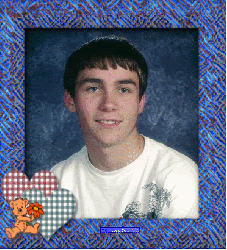 Precious Son

I Wish I Could See You One More Time
Come Walking Through My Door
But, I Know That Is Impossible
I Will Hear Your Voice No More
I Know You Can Feel My Tears
And You Don't Want Me To Cry
Yet, My Heart Is Broken
Because I Can't Understand Why
Someone So Precious Had To Die
I Pray That God Will Give Me Strength
And Somehow Get Me Through
As I Struggle With This Heartache
That Was Caused By Losing You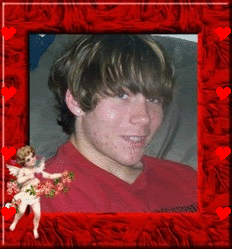 HAPPY VALENTINES DAY ROBERT
THERE'S A NEW STAR IN THE HEAVENS,
HOW BRIGHTLY IT DOES SHINE.
THIS STAR WAS BORN AUGUST TENTH,
OF TWO THOUSAND NINE.
IT WASN'T THERE BEFORE THEN,
FOR ROBERT WAS WITH US STILL.
HIS LIGHT BECAME THIS BRIGHT STAR,
WE CAN SEE HIM IF WE WILL!

WE'LL ALWAYS MISS HIS SMILING FACE,
AND HIS LAUGHTER WE CAN'T HEAR.
BUT WHEN WE FIND HIS STAR AT NIGHT,
WE WILL KNOW THAT HE IS NEAR.
WE WILL SEE OUR LIVES GO ON,
AND SOME WILL TRAVEL FAR,
BUT WE CAN FIND BOTH LIFE AND LOVE,
IN THE LIGHT FROM ROBERT'S STAR.


Still Missing You

They say there is a reason
They say that time will heal
But neither time nor reason
Will change the way we feel.

For no one knows the heartache
that lies behind our smiles,
No one knows how many times
we have broken down and cried.

We want to tell you something
so there won't be any doubt,
You're so wonderful to think of
but so hard to be without.
We cannot bring the old days back,
when we were all together
The family chain is broken now,
but memories live forever.
The Rose Still Grows Beyond The Wall


Near a shady wall a rose once grew,
Budded and blossomed in God's free light:
Watered and fed by morning dew,
Shedding its sweetness day and night.
As it grew and blossomed fair and tall,
Slowly rising to loftier height,
It came to a crevice in the wall,
Through which there shone a beam of light.
Onward it crept with added strength
With never a thought of fear or pride,
It followed the light through the crevice length,
And unfolded itself on the other side.
The light, the dew, the broadening view
Were found the same as they were before.
And it lost itself in beauties new.
Breathing its fragrance more and more.
Shall claim of death cause us to grieve,
And make our courage faint or fall?
Nay, let us faith and hope receive,
The rose still grows beyond the wall.
Scattering fragrance far and wide,
Just as it did in days of yore.
Just as it did on the other side,
Just as it will forevermore.

By A.L.Frink


Happy Birthday !!! Love and miss you !!!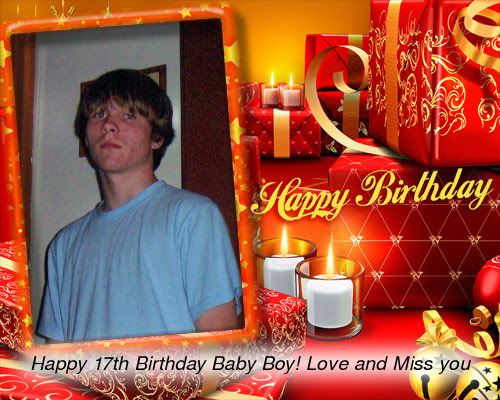 Merry Christmas !!! Love and miss you !!!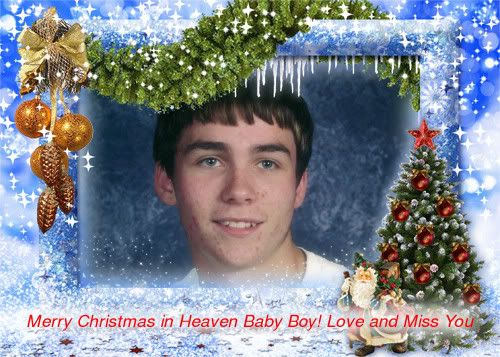 Happy Valentine's Babyboy!!!!
Love and Miss you!!!